About Us

Our enterprise, Anand Engineering Udyog, is a leading manufacturer, exporter, trader and supplier of a premium range of HM-HDPE, LDPE/LLDPE and EVA packaging material. Our firm was founded by Squadron Leader Mr. R.N. Ananda Gupta in the year 1984 at Bangalore with a mission to provide exemplary quality packaging materials to various sectors where packaging of goods or materials are required such as in the packaged food industry. Presently we are led by Mr. Murali Anand Gupta, proprietor of the firm, who has more than 15 years of experience in the field.

Ours is a legally registered firm under the regulation, governing the establishment of companies/firms, set by the Indian union. Since the establishment nearly three decades ago, we have been efficiently meeting market demands of effective and credible packaging materials, at highly competitive prices. With our continued efforts - right from the inception till the present day - we have successfully developed optimum grade packaging materials including Courier Bags, Bio-hazard Bags, Anti-Static & Liner Bags, Agricultural Packing Materials, Anti Static Bags, Anti Static Plastic Bags, Zipper Anti Static Poly Bags, Plastic Packaging Materials, and Polyethylene Packaging Bags amongst many others.
With our high quality products, we have served departmental & general stores, hotel and food industries, segregated garbage collection of hospital waste and flycatchers for floriculture industry. When we started, the packaging sector was still in the nascent stage and there was much to be discovered and developed. Our company was among the first in India to introduced techniques and technology of packaging, and we did aggressively pursued our goals to make it a happening industry. In a way, we have pioneered the emerging culture of brand packaging in the country and offered a great deal of convenience to the large industries in general, and to departmental stores and shops in particular.

Our business policies remain focused on ensuring total client satisfaction. Right from the beginning, we have emphasized on providing the best packaging solutions to our customers, using the most effective and plausible packaging technologies. And for achieving our goals, we have installed advanced machines in a well-integrated manufacturing plant. The facility is operated and maintained by a team of skilled professionals. The professionals are highly adept in accomplishing the processes such as catalytic polymerization, shearing, extrusion and other necessary activities. The team ensures that our clients get the best products at the most competitive prices.

Certification & Membership
Certification Name: ISO Certificate
Certification Type: ISO 9001:2008
Start Date: 05-APR-11
Expiry Date: 24-MAR-14
Issued By: VEXIL

Founder

Anand Engineering Udyog as founded by Squadron Leader R. N. Ananda Gupta (Retd.) as a proprietorship firm functioning as a manufacturer and trader of High Density High Molecular Polyethylene (HM-HDPE), Linear/Low Density Polyethylene (LDPE/LLDPE) and Ethylene Vinyl Activate (EVA) Packaging materials. His long term vision and guidance have spelled success for our firm.

Our Current Leader

We are presently headed by our proprietor Mr. Murali Anand Gupta who has more than 15 years of experience in the plastic industry, and holds expertise in finance management, shop floor and production management of thermoplastic film extrusion & injection molding technologies. Following the vision of our founder, he has taken the firm to an excellent market position. Under his proprietorship, Anand Engineering Udyog has grown with an unhindered pace to become a reputed entity in India especially down south.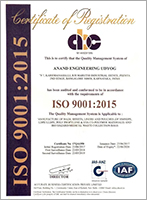 Read More